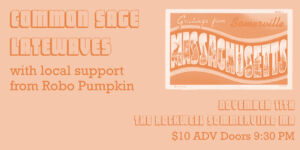 Don't miss Common Sage and LATEWAVES – in Boston for one night only, at The Rockwell!
Common Sage is an Emotional Post Hardcore band from Brooklyn, NY.
The group is currently writing their follow up to 2021's It Lives and It Breathes with Brett Romnes (Hot Mulligan, Save Face, I Am The Avalanche)
LATEWAVES formed on the beaches of Asbury Park, NJ in 2016. Latewaves is Mike Pellegrino (guitar/vocals), Shawna Grabowski (drums/vocals) and Howie Cohen (bass/vocals).
In December of 2022, the three returned to the same studio with Romnes and Caruana to embark on recording LP2. LATEWAVES second full-length will be released via Open Your Ears Records.
With local support from Robo Pumpkin.
*****
Doors at 9:30pm
Show at 10:00pm
Ticketing: General Admission | $10 in advance | 21+ PROPER ID REQUIRED
Accessibility: The Rockwell is wheelchair accessible.